Aurora System Review – Not Recommended, Find Out Why
Aurora System Review
Name: Aurora
Website: https://www.aurorasystem.net
Front End Price: $16.97
Up Sells
OTO #1 – $67 – The Pro version
OTO #2 -$197 – Done for you package
OTO #3 – $197 – Limitless traffic
OTO #4 – $97 License rights
Total Price = $574
Owners: Jono Armstrong And Brendan Mace
Overall Rank: 10 out of 100
A General Overview Of The Aurora System.
The Good & the Bad
The Good:
PRO Money Back Guarantee
The Bad:
CON This System will not work
CON Lots of expensive Up-sells
CON Requires lots of spam social media accounts which may get you banned from these platforms
CON Over hyped income claims
CON Another product from a serial product producer
CON Software Based Product – You will need to rely on support for it to work
The Aurora Up-sells In Detail
Up-sell #1 ($67) – "Pro" Version
The $16.97 initial product has some built in restrictions, if you don't purchase the PRO version you will have certain features restricted. You are told the PRO version is optional but without it you don't stand much chance of ever making this work, this tactic is done purposely to force you to buy the up sell.
This system requires you to have multiple Pinterest and Instagram accounts and the PRO version allows you to add multiple Instagram and Pinterest accounts automatically which the basic version does not. Setting up lots of these accounts may also get you banned as you are effectively spamming them.
Trying to get free traffic this way, is not going to build a business for you, people on social media are there to socialise and although they may click your link out of curiosity, its very unlikely that they will be in the right frame of mind to purchase a high ticket offer of about $2000.0 on a whim, without there being any relationship building or value added first.
Most people will also be on pinterest and instagram via a mobile device, and so now the chance of someone clicking a link on a mobile watching a 1 hour long webinar then proceeding to purchase a $2000.0 make money online training product is almost zero.
Ask yourself when was the last time you spent $2000.0 on a product while on a mobile device on social media, a $2000.0 product is known as a considered purchase and will never happen without there being a lot of trust built first, if you would not spend this much on a product on a whim then why do you think other people would.
Up-sell # 2 ($197) – Done For You Setup
This up-sell temps you with 5 webinar videos that promote high ticket offers.
Up-sell # 3 ($197) – Limitless Traffic
The title is quite misleading as it claims your going to get limitless traffic to your offer but in effect this is really just the option to add a tracking pixel to your page and re-target your audience. However, re targeting will mean you have to pay for traffic, it will not be free.
Up-sell 4 ($97) – Resell Rights
The truth about Aurora is that the main aim is to get you to promote the same system to others, as this is the only way you can really make money with this. But to do this you need to purchase all the up-sells and the resell rights, so the whole marketing funnel is designed for you to give them over $500 and then go get others to do the same.
This is the way that product creators make vast sums of money as you will be doing all the work for them and getting traffic to this system while they sit back and earn money. You will earn commissions of course but you need to know what your doing to promote it. This is the reason you will see videos all over page 1 of Google as the only money made with Aurora is in promoting it and not in using it.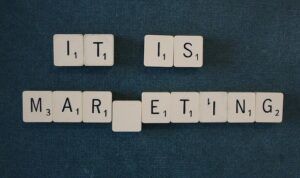 To promote this product you will need a high level of marketing skills, a fully functional website and the knowledge and skills to get your website on page 1 of Google. Or you can be one of the many people who create videos promoting this product, all of them the same and you can see them all over page 1 of Google, but you will need the skills and experience to create videos and also get your videos on page 1 of Google.
The classic get-rich-quick system that gets promoted by hundreds of affiliate's, until the serial product producers build another product and do exactly the same thing over and over again.
Who is Aurora Best For? The product creators and affiliates promoting it.
Aurora System Review The Truth Uncovered
The Aurora system teaches you to utilise affiliate marketing an  promote high ticket offers with automated webinars, with free traffic from pinterest and Instagram using the Aurora software to build your campaigns. In the demonstration video Jono explains what exactly you will be doing to earn money online by promoting high ticket offers to people on pinterest and Instagram.
Be Warned When Buying Software Products 
This is also a cloud based software product and its important to be aware that software needs to be updated, maintained and supported, as these people are serial product producers they will unlikely keep the software up to date and as as soon as this product has produced as much money for them as possible they will be onto the next piece of software and the next product.
You are relying on the on going support that needs to be there all the time, I can assure you that the support will simply not be there for long if its ever there at all. These types of software are built quickly and cheaply, they are likely to have all sorts of bugs and glitches which all software does, as these types of software are not really tested and are new they are likely to behave badly and you will need a high level of tech support, which is unlikely to be there.
They rely on the fact that most people will just give up and move on to the next product, there is a money back guarantee, but that fact does not mean you are going to get your money back without a fight, which most people do not want to undertake.
Some of the very unhappy customers of the Aurora System Below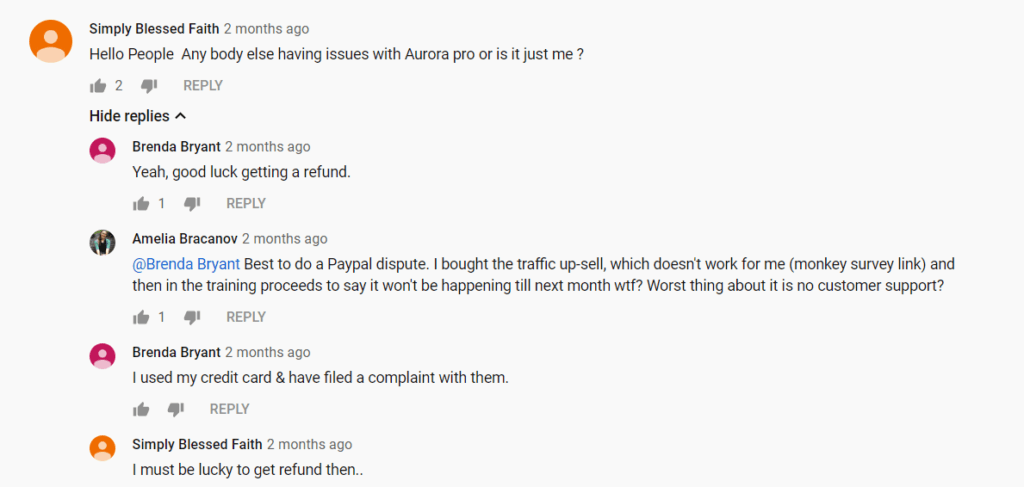 Jono Armstrong – The Serial Product Producer
The first claim he makes is that he is using the exact system to earn high commissions, he then shows you a screen shot of his commissions he has earned using the Aurora software. However, the screen shot he shows you is not from Aurora it's from his warrior plus account where he sells products like Aurora and many others like it.
Below is a screen shot from the sales page video where Jono claims that these commissions are coming from the Aurora software, but they are commissions from his Warrior plus affiliate account and not commissions coming from his software.
When he shows you this on the video, the camera quickly moves on from the screen so you can not see that the only money he earns is from selling his own products on the warrior forum and being an affiliate for other peoples products on the same forum.
They all promote each others products and the testimonials on the sales pages are all from the same people on warrior plus that write false reviews for each other so as to make these products look genuine.
He earns money by selling products not using them, which should now be raising a red flag with you.
The same old promises with every product they produce
One click set up

No Skills needed

Newbie friendly

Set and forget passive income

Only work 10 minutes a day

Game changing software

Auto pilot commissions

Jono Armstrong, along with others like him keep churning out these products over and over again because they know how much money is to be made selling the system instead of using it themselves
The Real Reasons Why Aurora Will Not Work 
Affiliate Marketing Done Wrong

The image above paints an exact picture of how not to do affiliate marketing or any other marketing, there is a big missing part of the picture above, and that is called "relationship building" this system relies on sending completely cold traffic to a high ticket offer via a webinar.
The systems involves you setting up multiple accounts on Instagram and pintrest and putting a link in your description and hoping people click on it. The link will send them to a webinar with a very high ticket sales pitch in the region of $2000
Ask your self this question, when was the last time you were on social media and clicked a link from someone you have never met or know in any way, and then purchased a $2000.0 product. The answer is never, because no one will ever spend $2000 on a whim.
The Missing Part Of The Puzzle
In order to promote high ticket products as an affiliate you need to build a relationship with your audience first, trying to promote high ticket products to completely cold traffic is like proposing marriage to a stranger, it will never work.
All get-rich-quick schemes miss out this vital part of the puzzle and this is why the Aurora system will never work and is also the reason why the creators of this product will never use this system themselves as it does not work.
People only buy from people they "Know, Like And Trust", all marketing is the art of building relationships with potential buyers, all successful business know this and do it every day.
To be successful at online marketing you need to build long term relationships instead of trying to sell to people straight away as this is a recipe for disaster, to build a relationship first means adding value before you try and convince anyone to buy your product, especially high priced ones. All get rich scheme have this fatal flaw and hence they never work
The only people to make money with Aurora will be the product creators and the product affiliates, I therefor highly recommend you steer very clear of Aurora.
Get Trained To Be An Affiliate Marketer. FREE To Get Started 
Final Thoughts And My Little Rant On The Aurora System
I have created this blog for the sole purpose of helping people to try and avoid these types of products that are produced by the hundreds every year, year in year out. These serial product producers leave in their path a trail of destruction and disappointment for millions of people.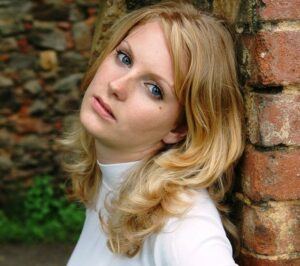 They care not a jot how people feel and how angry, disappointed and fed up they get with these so called push button, easy systems that flat out don't work and they never will work. I hope my post has helped you avoid yet another flawed product that will only benefit the owners.
This product is yet another from the same serial product producers that churn out the same types of system over and over again, they know exactly what works, these products are always over hyped and full of false promises. They know that the only way to make money is to make bold promises to anyone who wants to get taken in by them.
They never use the products themselves because they know they do not work, if but spend their time convincing others that they do work, once each product reaches its peak in sales they move onto the next one and the process is continually repeated over and over again.
In addition to this they will always get armies of affiliates to promote their products, which effectively takes all the work out of promoting it themselves, it's a very powerful and successful formula for the product creators and of course the affiliates, but not for the customers of the product it self.
Have you had any experiences with this product or others like them, good or bad, if so let me know in the comments section below as I would love to hear about them.
If you have any other questions on this product or online marketing then please do not hesitate to let me know, I will always answer any questions no mater what they are.