The Paid Social Media Jobs Review – The Truth Uncovered
Are you one of the many people out there looking for someone to get honest with you about paid social media jobs, well your in the right place. I will give you a complete breakdown of this product, so you can make an informed decision yourself about this online business opportunity.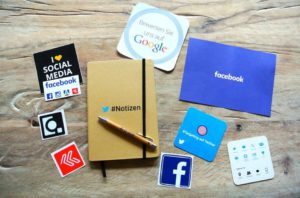 The Paid Social Media Jobs Review
Name: Paid Social Media Jobs
Website: paidsocialmediajobs.com
Price: $27.0 with a $17.0 down sell.
Owner:  Simon Sultana.
Overall Rank: 10 out of 100
Who Will Benefit The Most From This Product – The Product Owners
---
The Sales Page
Paid social media jobs claims to help you obtain work as a social media manager or consultant for business all over the world, as with all these products the sales page starts with a story of a single mother who was struggling financially and now earns $700.0 per week, working for companies doing there social media for them.
This type of marketing approach is very common as they know that a large part of their potential customer base will be single mums, so the marketing is targeting them specifically, a very common but powerful strategy to get you hooked. Its quite clever because they are asking for your email address first, then you will be taken to the actual product page where they will be asking your for your money.
I submitted my own email address and have already received emails offering me even more dodgy products like app coiner, making claims of an easy £300 per day, and no doubt I will be receiving  more e-mails like that.
---
The Breaking News Video

This is a very real looking breaking news video about the rise in social media jobs around the world and how people like you can take advantage of this so called wonderful opportunity.
Here is an image of the same guy on fiver offering to make FAKE breaking news videos
I like to do my research and I discovered that creating fake breaking news videos is big business on Fiver as can be seen by the image below.
The next part of the sales page shows a screenshot of Annie Jones earnings, but look carefully and Annie Jones has now turned into Kate Jones, it looks like their getting careless now.
---
The Activation Page
Once you submit your e-mail address you will be taken to the activation page, where they you will be asked to pay $27.0 for the product.
You will notice on the right of the image that it says we are open to new members in the United kingdom, it will say this for any country you live in, it's GEO targeted, so your country will appear on the page what ever country your are in. If you click away from the page this pop up will appear.
This is the down sell, it's GEO targeted so no mater what country your in you will get the same message but your own country will appear on the pop up. More fake advertising on their part. They are desperate to  get your money so they will give you access for just $17.0 which to them is better than nothing.
If you join this program you will be seen as a buyer and placed on their buyer list, you will then receive endless e-mails offering you jobs such as an app tester or paid to write type jobs, you will then be sent to another web page that looks exactly the same where you will be asked for more money to sign up for that program.
---
The Earnings Calculator
After some more research  I discovered the same calculator on another product called app coiner.
It would seem that this product is also owned by the same person or persons.
---
The Serial Product Producers
There is a small group of people out there known as "the serial product producers", they keep on producing product after product because they know there is a living to be made from these types of over hyped products. They create one after another, make quick profit and then move on to the next one.
Below is a screen shot of the activation page, which informs you that you will also get access to all these other products, which tells me that all these products are owned by the same person.
The classic serial product producer who knows that the best way to make money is, just keep churning out these products, the real owner of these products is Simon Sultana. He also owns App Coiner and other similar products. All the websites for these products are exactly the same and they follow the same formula, he just keeps churning them out
Since submitting my email address I have been sent e-mail promising me all sorts of jobs that probably don't even exist




All the products they produce have the same pattern, they all promise vast wealth without any effort or sacrifice on your part, so they attract a lot of buyers, these people will never go away, and so the main aim of my website is to uncover the truth about these products. I know that if your on my site you are looking for a way to create an online business from home.
The only good thing I have to say about this product is that ii has a 60-day money back guarantee.
This image or banner claims you will get paid for messing around on social media, I can assure you that messing around on social media is not what companies want you to do, unfortunately so many people use social media as a form of entertainment, and think that they can earn a living at it because they spend all day on Facebook, but if you do this for a living you will be expected to get real results.
The type of social Media jobs they are claiming you will get paid for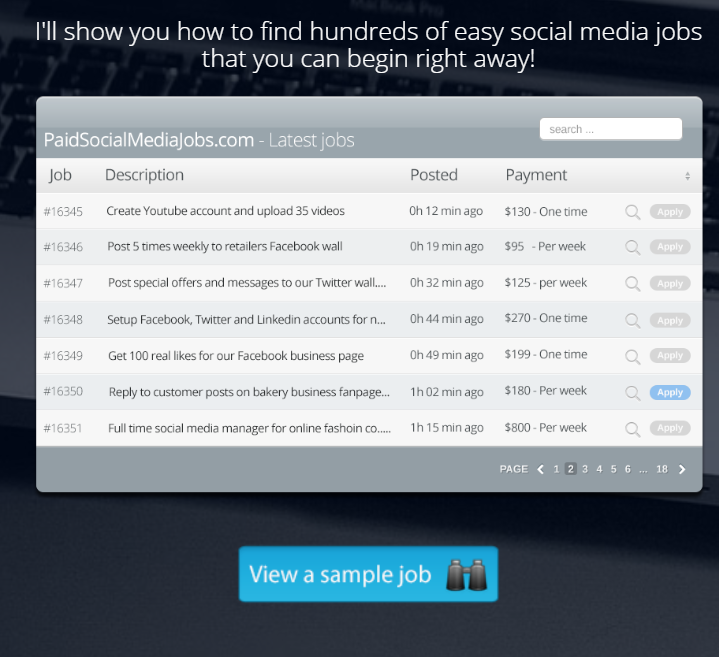 A great deal of these jobs are very simple and not results based, anybody can do most of them and I very much doubt that messing around on social media is what company's are willing to pay for, they are also promising that these businesses will shower you with gifts as the image below shows.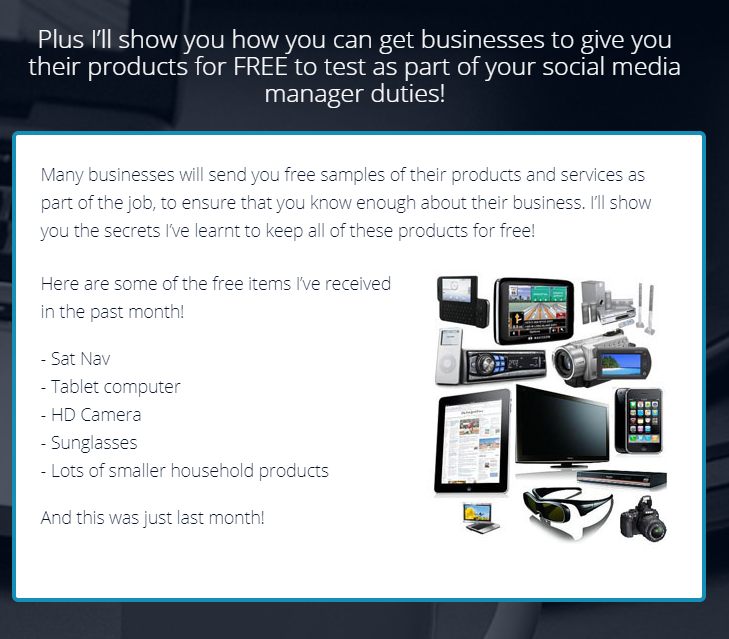 Here is an image of a sample job from a company called Fastbake Cooking, I am a business owner so I know how to look up company's and I could not find any evidence that this company is real at all. You will also notice that the profile is blank, another red flag for me.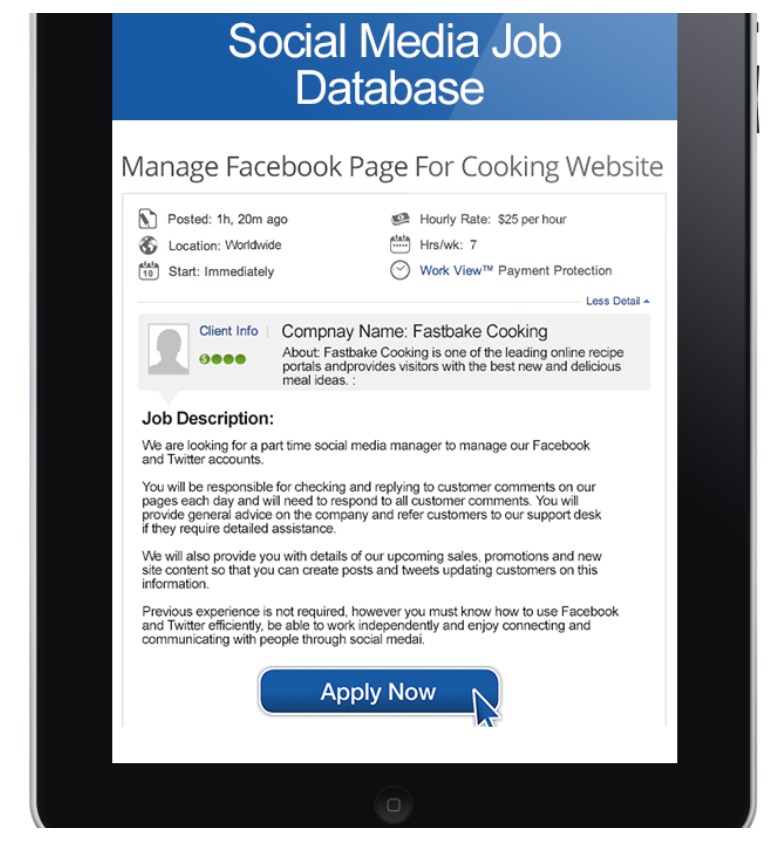 The most important things companies want and need to survive online are;
Brand Awareness
Customer acquisition
Profitable advertising campaigns
Good Company Image
Real Social media manages are paid quite well because their skills can produce real and tangible results for the business they work for, however these results are not achieved by messing around on Facebook, they are only achieved by people who have an in depth understand digital marketing stratagems.
What ever your skill set is, the best approach would be to invest in your self and get as much real training in the social media world as you can. There are great opportunities for people who have the right skills, and there is a lot of money to be made or earned in the digital marketing space.
If you want to work for a business doing social media, they are not going to pay you for simple jobs that can be done by anybody, they want real results for their money. You will be expected to raise the profile of the business as well as calculate how to create profitable add campaigns.
Social media can really help a business grow but at the same time it can also destroy them in an instant, the amount of people, politicians, celebrity's and business that have destroyed their reputation and lives on social media is endless, so they will not outsource this type of work to anybody, they will only want to employ professional with a proven track record.
Verdict On Paid Social Media Jobs
---
The Real World Of Paid Social Media Jobs
There is no doubt that digital marketing and social media are now part of the DNA of business all over the world, and there are plenty of opportunities out there to work in this field. Its rising exponentially, but you are going to need real skills, the real reason this product will not work is that there is not a company in the world that will pay a complete stranger, to do their social media marketing or any other marketing for that matter.
I did some research on Google and found a plethora of job opportunities out there for highly skilled people, companies are looking for the right individuals to help them succeed with all their digital marketing campaigns and presence online. However, what they will expect is real results from their social media, in other words an increase in customer acquisition and profits.
The Good News
There are however great opportunities out there if your willing to look for them, as long as you have the right skills and are willing to work hard for the company, the product I have reviewed for you claims you can earn $25.0 an hour just by messing around on social media, this is very unrealistic, if your going to get paid they will want real results.
Below is a screen shot of a real social media job that you can do from home. I live in the UK so it's from near where I live, it only took me about 5 Minuets to find this. This is from a real job site here in the UK, and no doubt if you did a search in your area then you may find opportunities like this.
You won't have to pay $27.0 for the privilege, and then be bombard with up sells and e-mails trying to sell you more over hyped get rich schemes.
Paid Social Media Jobs On Fiver and Upwork
If you are looking for work as a social media consultant or worker then one of your best bets would be fiver, as it's the main marketing place where businesses all over the world go, to outsource work like this. The benefit of fiver is that you can build a profile and a proven track record for delivering a service.
Although it's called fiver, the reality is that you can charge much more and most of the money is earned with up sells from the main product or service you are offering.
Upwork is another very professional market place for people looking for paid social media jobs, these are tested and trustworthy sites that have built a reputation for finding the right people for the right businesses. There is actually a lot of money to be earned in the social media market place, if you look around and go the right places.
The Essential Skills Required To Be A Paid Social Media Manager
Copy Writing And Editing
Customer service
Design And Image Editing
Analytics And Reporting
Video Creation
Paid Social Media Advertising
Research And Planning
To be a successful social media manager you will need to have the skills to influence people, because that is the art of all marketing, digital or otherwise.
Final Thoughts
What you should not be doing in my opinion is paying somebody to go to work, the whole point is that you should be getting paid not them. 
I always want to serve you as best I can, if there is anything you would like to ask about this product or anything else about how to create a business online from home, then please use the comments section below.
Have you had any experiences with other products, good or bad, tell me about your them in the comments section below, we can help each other stay away from scams online, so please detail any experiences you have had with products in the past.
I am serous about helping people create an online business from home. The internet is a minefield so we all need to help each other out by giving relating out experiences to each other.